Golden Thistle is back on her permanent, residential mooring in London's Poplar Dock having returned from a 12 month round trip from London to Budapest. Her sweeping, graceful lines were admired wherever she went. She powered her way across the English Channel, glided along the canals and chugged stoically up the great rivers of Europe.
Whether basking in sunshine with windows and doors open wide, or under a blanket of snow with a crackling log fire, she was as 'at home' in Vienna for Christmas as she was moored alongside country markets.
Golden Thistle is an "Aak". She was built of iron in Holland in 1906 and measures approx. 20m x 3.5m. She was converted in 1993 on the River Thames in London to the highest specification and fitted out by craftsmen using mahogany finished with 12 coats of varnish.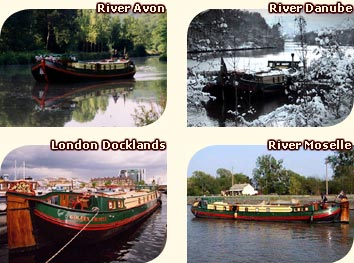 The barge is extremely comfortable and well equipped, suitable for living aboard or cruising on small canals, large rivers and coastal waters. The accommodation comprises two cabins (one with ensuite shower room and loo), bathroom and further double bed. Kitchen with washing machine, dishwasher and large fridge freezer and a saloon with an open fireplace.
Features include:
Mooring in Poplar Dock - 5 minutes walk from Blackwall DLR station
Huge beautifully balanced rudder providing easy, precise steering. The carving of a rambling thistle on the top is unusually deep and very beautiful
Water tanks sufficient to provide showers and water for the appliances for 2 people for at least 10 days
Microflush loos - very efficient, clean and nice to use
Diesel powered central heating providing hot air throughout
Efficient bow thruster making steering precise and easy. There are bilge keels to prevent the barge from slipping sideways
Ship-to-shore radio and depth sounder
Stereo and CD player with speakers in main saloon and aft cabin
Lighting and domestic power is 24v and 240v mains or generator
Golden Thistle's strong, all weather construction and size make her ideally suited for living aboard or cruising. She has been along the Kennett and Avon canal from Bath to Reading, the Lee and Stort navigation north of London, up the River Severn to Stourport and the River Avon to the basin outside the Stratford Theatre, up and down the Bristol Channel and across the English Channel from London to Calais, up the Rivers Rhone, Thames, Rhine and Danube with no difficulty.
The engine room is full height with a large sky light in it and includes:
A 6 cylinder Lister diesel engine in a sound proof case
Lister generator
Bank of batteries
Battery charger
Invertor
Calor water heater (reserve)
Large immersion hot water tank (heated off the engine)
Diesel hot air central heating
The large saloon has an open fire surrounded by traditional dutch tiles, "L" shaped seat which makes (easily) into a double bed, table, various cupboards, drawers, glass book cupboards etc. There are two button back antique arm chairs and a Persian rug.
The kitchen forms part of the saloon and is behind a wooden counter under which is a washing machine and dishwasher. There's a four ring calor gas cooker and a large upright fridge freezer. All white goods replaced 2005.
The main cabin has a double bed with drawers under it, a range of cupboards and a wardrobe. The cabin has a blue and white china basin and an antique cut glass screen, behind which is a shower room decorated in Delft tiles. There is also a loo in the shower room.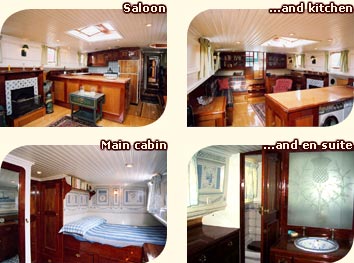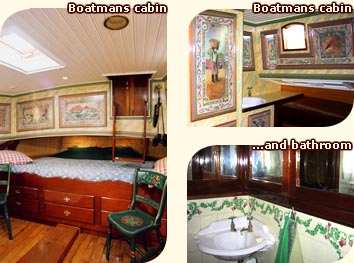 The second cabin has a bed situated under the back deck, which is about 2.5m wide. There is a basin, table, wardrobe and lots of cupboards and drawers. There is a door and steps leading to the after deck.
The bathroom has a shower, basin and loo.